Zeektek Recognized as one of the Fastest Growing Companies 2023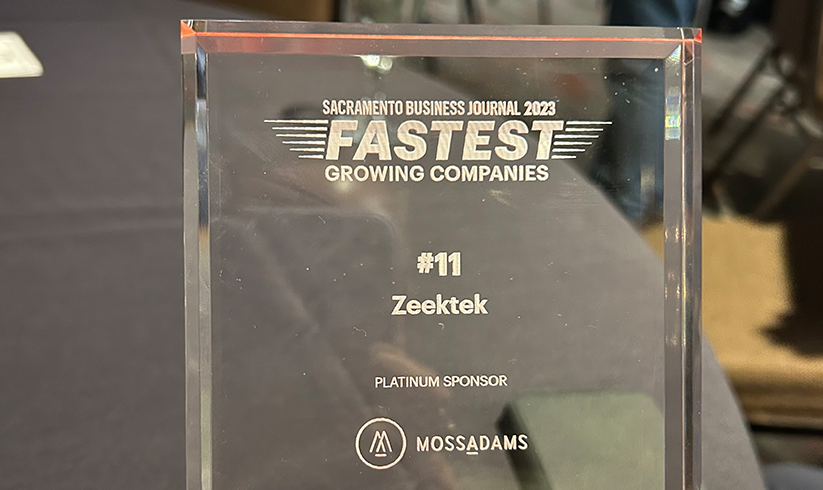 Sacramento, CA – August 11, 2023 — Zeektek, a leading technology staffing and solutions provider, is proud to announce its recent recognition as one of the Fastest Growing Companies 2023 by the esteemed Sacramento Business Journal. This prestigious acknowledgment showcases Zeektek's exceptional growth, commitment to excellence, and significant contributions to the Sacramento business community. Out of 50 nominees, Zeektek is ranked as number 11.
The Sacramento Business Journal's Fastest Growing Companies 2023 list highlights organizations that have demonstrated impressive expansion and development over the past year. Zeektek's inclusion in this distinguished roster not only reflects its rapid growth but also underscores its dedication to delivering innovative technology solutions and outstanding service to clients across various industries.
"This recognition from the Sacramento Business Journal is a testament to our team's unwavering commitment to driving innovation and providing exceptional service to our clients," said John Stuart, CEO and Founder of Zeektek. "We are proud to be acknowledged among the Fastest Growing Companies 2023, and we owe this success to the hard work and dedication of our talented team and the trust our clients place in us."
Zeektek's growth trajectory can be attributed to its relentless pursuit of excellence, a talented team of professionals, and its ability to consistently deliver superior results. The company's expertise spans a wide range of technology solutions, including software development, IT consulting, cybersecurity, cloud computing, and more. With a strong focus on collaboration and innovation, Zeektek has helped numerous businesses achieve their hiring goals and overcome challenges in the rapidly evolving talent acquisition landscape.
Zeektek's commitment to the Sacramento community extends beyond its business operations. The company actively engages in philanthropic initiatives, partnering with local organizations to support educational programs, community development, and technology literacy efforts. By giving back to the community, Zeektek aims to create a positive and lasting impact in the Sacramento region.
ABOUT ZEEKTEK
Zeektek is an IT staffing and solutions company located in the Greater Sacramento Area. Founded in 2016 by staffing industry veterans John Stuart and Chad Daugherty, Zeektek was formed under the most basic of principles and qualities – loyalty, good listening and honesty. Zeektek is intensely focused on people, community and technology. For these efforts, Zeektek has been recognized with numerous awards and ranked on several industry lists, including Staffing Industry Analysts' Best Staffing Firms list. To learn more, go to www.zeektek.com.